Services in Auchtertool Kirk 9.30am Sundays
This Sunday (17th March) Rev Justin Taylor will lead us in worship  as it's "pulpit interchange Sunday" in the 4 neighbouring Kirkcaldy churches of Scotland. So whilst Catriona and Marc are in St Bryce Kirk, Justin is here with us. Justin is minister for Kirkcaldy: Abbotshall.
Mannah & Mercy for Lent – a weekly meeting over 6 weeks:  

Wed 20th, The Kirk Café, Delicious freshly-made-to-order soup & sandwich lunches served from 11:45-1:30 in Linktown Church halls. A warm welcome to everyone in the neighbourhood and beyond.
Sat. 23rd March 2019, 10am -12: the famous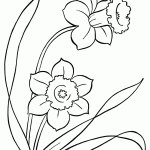 "Daffodil Tea" coffee morning, produce & plant sale in aid of Auchtertool Kirk funds in Auchtertool Village Hall. Please support this vital fundraiser as strong as you can with donations and coming (bring friends).
Sat. 23rd March 9:30 -3pm 'Changing church in a changing world' day conference – for anyone concerned for the future of the church (not only elders). Free – book (1st come, 1st served) by email to Arthur   AChristie "at"churchofscotland.org.uk , see poster. Hosted by the 'Macedonian Ministries' who support Catriona and Marc, enabled by Presbytery.
Mon 25th, 6.30-8pm 'Joyful Noise' weekly community music group with an open and flexible welcome – make music for joy and sharing. No formalities, just joyful. in Linktown Church halls.
Mon. April 1st 2pm 'Bible, Cake & Conversation': this group meets fortnightly in someone's home – to be part of this talking through questions of faith and bible, ask Marc Prowe. Can you host a new group in your sitting room or in a pub? We're ready to make it happen.
Tue. 2nd April 2pm Service of worship in Camilla House Care Home, welcoming people of all faiths & none: song, music, symbols, prayer, reflection, bible story and personal encounter. Informal, but with dignity. It's a friendly welcoming community.
3rd – 17th April Walking Festival by Craigencalt Trust
Holy Week – story & reflection times leading up to Easter Sunday – all April:
Mon. 15th 7pm in Linktown Church
Tue. 16th 7pm in West End Congregational
Wed. 17th 7pm in Bennochy Church
Thu. 18th 7pm in Auchtertool Kirk (and also St Bryce Kirk 7pm)
Fri. 19th 10am – 4pm in Linktown Church open for reflection, 
2:30 – 3pm time of reflection in Congregational Church
4pm story & prayer outside under the cross Linktown Ch. garden
7pm in Abbotshall Church
Sun. 21st  5:45am outside Auchtertool Kirk: sunrise service with breakfast
8:30am garden fountain Beveridge Park: Easter service
9:30 Celebrating resurrection in Auchtertool Kirk
Beach Clean Action – interested? We and others have been asked if we can do a beach clean – a good opportunity to worship God open-air, out of the pew! Cllr Ross Vettraino explained: "Litter and illegal dumping is an ongoing problem and the help we get from community groups is invaluable. … This year we're getting behind the national campaign by encouraging community groups to target clean-ups along the length of Fife's Coastal Path." Timing: sometime in April – May. Notes of interest to marc "at" linktown.org.uk , please.
Sat. 11 May 2pm Forth Bridge Cross for Christian Aid (for 3 hours) Starting point: South Queensferry side of the Forth Bridge at Forth Bridge Administration Offices EH30 9XY
The Kirk's yearly seasonal cycle:
Living through the seasons, finding deep meaning in life. Nature's rhythm and God's inspiration join hands. Gifts you perspective, firm hold, sense. Our lives within the Creators timescale.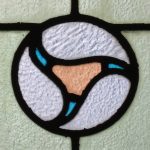 A significant blessing to celebrate through the seasons, quite different from the same-y  24/7!
(Baptisms, Blessings, Funerals, Weddings = any time.)
SPRING
23rd March 2019, 10am -12: the famous "Daffodil Tea" coffee morning, produce & plant sale in aid of Auchtertool Kirk funds in Auchtertool Village Hall. Please support this vital fundraiser as strong as you can with donations and coming (bring friends).

"Lent" = the time leading up to Easter; in Lent we tend to reflect "what is really important in life? What is worth waiting for? What is essential? From 6th March 2019.
"Easter" = the greatest Christian festival of the year celebrating victory over all that makes for death, by Christ's rising from the grave, the victory of God's forgiveness and love: resurrection.  Easter is a flexible date: 1st Sunday after 1st full moon in Spring (= from 21st March)
  Easter
21st April 2019
5:53am SUNRISE: 5:45am resurrection service outside Auchtertool Kirk, followed by breakfast inside to warm up
9:30am Easter celebration service in Auchtertool Kirk, 
11am Linktown Church Easter celebration service with communion offered.
SUMMER – concerts 
AUTUMN
September: xxth 1:30 – 4pm "Open Doors Day" in the area, incl. Auchtertool Kirk – www.doorsopendays.org.uk
September/October: service of Harvest Thanksgiving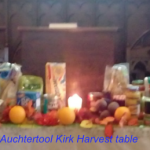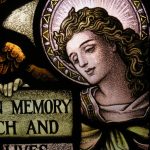 Remembrance: Sunday closest to 11th November: 9:30 am service remembering all from Auchtertool Parish who fell in the wars, laying wreaths at the local war memorial which unusually is a stained glass window inside the Kirk.
WINTER
Advent: the four weeks before Christmas have the four "Advent Sundays", preparing for the joy and deep meaning of Christmas itself – a time of waiting and reflecting.
Watch-night every year in Auchtertool Kirk, 24th/25th December: from 11pm of the 24th all are welcome for hot mince pies and hot drinks, then from 11:30 we celebrate the candle-lit "watch night service" into the actual Christmas Day, a great community celebration, with the peace Christ brought very tangible.
"The 12 days of Christmas" go from 25th Dec to 6th January