Services in Auchtertool Kirk 9.30am Sundays
10 Church Leaders, including Right Rev. Colin Sinclair (Moderator of the General Assembly of the Church of Scotland), issued a Joint Statement containing the following: "We, the leaders and representatives of ten British Church denominations and networks, speak together as the UK prepares to leave the European Union on Friday 31 January 2020. … We will only be able to move towards having a sense of common purpose, despite our differences, when we choose to act with kindness, humility and respect towards those with whom we disagree. We call on our political leaders to set an example over the next weeks and months as we move towards negotiations which will require further decisions about priorities for the nations of the UK. For our part, our Churches will be working and praying for:
a society where the poorest and most marginalised are at the centre
a society that welcomes the stranger
a just economy that enables the flourishing of all life
a planet where the environment is renewed
a world which actively works for peace
a politics characterised by listening, kindness and truthfulness.
We pray for the people of the UK, for our leaders, and for the whole of Europe, as we mark this significant moment together."
SAT. 28TH MARCH evening: WORLD FAMOUS LINKTOWN CEILIDH !!! In Linktown Church Hall , Music by Raith Probus Scottish Dance Band. Tickets priced £10 for adults and £5 for children are now on sale, a fish supper is included in the price. Tickets here  
Mon. 2nd March 2pm 'Bible, Cake & Conversation': this group meets fortnightly in someone's home – to be part of this talking through questions of faith and bible, ask Marc Prowe. Can you host a new group in your sitting room or in a pub? We're ready to make it happen.
Tuesdays, 6-7.30pm 'Joyful Noise' weekly community music group with an open and flexible welcome – make music for joy and sharing. No formalities, just joyful. in Linktown Church halls.
Thursdays 23rd Jan -2nd April, weekly: Alpha Course in Kinghorn 'church in the high street'. Every Thursday evening for 11 weeks start at around 7 pm with a free meal shared together; meet people, ask and discuss those tough questions around… Life, Faith, Meaning. Alpha is a chance to explore life and the Christian faith in a friendly, open and informal environment.
Have a night off cooking and come and share a free meal with others before watching a short talk and then sharing in a discussion about some of life's big questions. Let us know here if you'd like to come, or just turn up on the night.
Alpha is for anyone – no matter what stage you are at in your journey with God. Could this be what you need to help you take the next steps towards becoming a Christian or to grow more in your faith? Are there people you could invite?
Or perhaps you'd just like a chance to think about and discuss some of the 'big questions' life throws at us. Or maybe even just the appeal of a meal that you haven't had to cook or wash up after! There's no cost.
Leading Worship: new course  begins on March 12, open to all interested in participating in leading worship:   March 12-What is worship all about?  March 26-The Bible, difficult and often incomprehensible book?  April 16-Anyone can pray! True or false?  April 30-How many hymns are too many?  May 14-Bishop Curry or John Knox? styles of preaching  June 4-outer space and inner space – how use the building?  All dates in St Margaret's Church, Woodside Road Glenrothes, KY7 5HD, all at 7pm.
Events in the wider community
Bridgehead Healing (formerly Healing Rooms Kirkcaldy) Drop-ins are Fridays 1- 2.30pm weekly at Kirkcaldy venue at St Bryce Kirk Centre, and also monthly (first Wed. of the month) in our venue at Rosyth Baptist Church, 7-8.30pm. Also continuing to offer Deeper Healing monthly by appointment in Erskine Church, Burntisland (usually last Thursday of the month 7.30-9.30pm). Diane, Andy and volunteers serve to reach our area of Fife with God's love and healing power. see also on facebook
The Kirk's yearly seasonal cycle:
Living through the seasons, finding deep meaning in life. Nature's rhythm and God's inspiration join hands. Gifts you perspective, firm hold, sense. Our lives within the Creators timescale.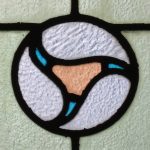 A significant blessing to celebrate through the seasons, quite different from the same-y  24/7!
(Baptisms, Blessings, Funerals, Weddings = any time.)
SPRING
?rd March? 2020, 10am -12: the famous "Daffodil Tea" coffee morning, produce & plant sale in aid of Auchtertool Kirk funds in Auchtertool Village Hall. Please support this vital fundraiser as strong as you can with donations and coming (bring friends).

"Lent" = the time leading up to Easter;  in Lent we tend to reflect "what is really important in life? What is worth waiting for? What is essential? Now.
"Easter" = the greatest Christian festival of the year celebrating victory over all that makes for death, by Christ's rising from the grave, the victory of God's forgiveness and love: resurrection.  Easter is a flexible date: 1st Sunday after 1st full moon in Spring (= from 21st March)
  Easter
12th April 2020
SUNRISE:  6 am resurrection service outside Auchtertool Kirk, followed by breakfast inside to warm up
9:30am Easter celebration service in Auchtertool Kirk, 
LENT – EASTER theme 'Jerusalem, stirred up by Jesus' @ AUCHTERTOOL KIRK:
Sunday 1st March 9.30am Auchtertool Kirk  – "The Jerusalem story"
Sunday 8th March 9.30am Auchtertool Village Hall (tbc.) – cafe church – "Guests round the table"
Sunday 15th March 9.30am Auchtertool Kirk – "At the side of the pool"
Sunday 22nd March 9.30am Auchtertool Kirk – "In the temple courtyard"
Sunday 29th March 9.30am Auchtertool Kirk  – "Ready in God's time"
Palm Sunday 5th April 9.30am Auchtertool Kirk – "Through the streets, into the city"
Monday 6th April 7pm Abbotshall Church
Tuesday 7th April 7pm Linktown Church
Wednesday 8th April 7pm Congregational Church
Maundy Thursday 9th April 7pm Auchtertool Kirk
Good Friday 10th April 10am-4pm Linktown Church open for prayer and meditation,  with short service at the cross in the church garden at 4pm
Good Friday 10th April 7pm St Bryce Kirk
Easter Sunday 12th April 6am Auchtertool Kirk garden sunrise service, followed by breakfast inside 
Easter Sunday 12th April 9.30am Auchtertool Kirk – "It happened in a garden"
Sunday 19th April 9.30am Auchtertool Kirk – "The story continues"
SUMMER – concerts 
September: xth 1:30 – 4pm "Open Doors Day" in the area, incl. Auchtertool Kirk – www.doorsopendays.org.uk
AUTUMN
September/October: service of Harvest Thanksgiving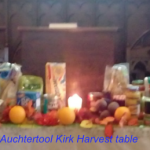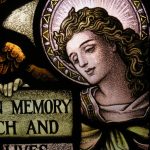 Remembrance: Sunday closest to 11th November: 9:30 am service remembering all from Auchtertool Parish who fell in the wars, laying wreaths at the local war memorial which unusually, here is a stained glass window inside the Kirk. 8th Nov. 2020 9:30 start
WINTER
Advent: the four weeks before Christmas have the four "Advent Sundays", preparing for the joy and deep meaning of Christmas itself – a time of waiting and reflecting.
Watch-night every year in Auchtertool Kirk, 24th/25th December: from 11pm of the 24th all are welcome for hot mince pies and hot drinks, then from 11:30 we celebrate the candle-lit "watch night service" into the actual Christmas Day, a great community celebration, with the peace Christ brought very tangible.
"The 12 days of Christmas" go from 25th Dec to 6th January