Services in the kirk 'with a difference': We love being together as a church, but we are called to love the world more. We are organising short services/gatherings with safeguards – if you come for a kirk service in person, read first what you need to do here . We also aim to continue online on  our youtube channel .  Covid-19 virus:  Stay safe, act responsibly, follow official advice -click  here ( Health Protection Scotland).
Help: If the lock-down / the virus pandemic  has put you in dire straits, you can contact covid.communityhelpline@fife.gov.uk or call 0800 952 0330 . All requests will be logged so they don't get lost in the system. More helpful detail here: Covid-19 Kdy Support 9-4-2020 .

Find all our broadcasts on  youtube.com/ – subscribe if you like!
we will pray for you and yours; in the Village Green you can post prayer requests confidentially in a white 'prayer – letter box'.
On Sunday 4th Oct. Catriona and Marc have led worship for a last time as ministers of Auchtertool Kirk.  A recording of this 'pass it on' service in Linktown Church is here. 
For 20 years of a very happy ministry in Auchtertool, Catriona and Marc say 'thank you' here.
Delayed to another date 

: the famous "Daffodil Tea"coffee morning,

changing into a "Rose or Chrysanthemum Tea 2021?!": will be announced when …:

it's a produce & plant sale in aid of Auchtertool Kirk funds in Auchtertool Village Hall. Please support this vital fundraiser as strong as you can with donations and coming (bring friends). date to be confirmed.
Events in the wider community:
Bridgehead Healing (formerly Healing Rooms Kirkcaldy) please check availability / times directly with Bridgehead Healing. Drop-ins are Fridays 1- 2.30pm weekly at Kirkcaldy venue at St Bryce Kirk Centre, and also monthly (first Wed. of the month) in our venue at Rosyth Baptist Church, 7-8.30pm. Also continuing to offer Deeper Healing monthly by appointment in Erskine Church, Burntisland (usually last Thursday of the month 7.30-9.30pm). Diane, Andy and volunteers serve to reach our area of Fife with God's love and healing power. see also on facebook
The Kirk's yearly seasonal cycle:
Living through the seasons, finding deep meaning in life. Nature's rhythm and God's inspiration join hands. Gifts you perspective, firm hold, sense. Our lives within the Creators timescale.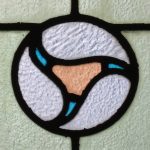 A significant blessing to celebrate through the changing seasons, never the same!
(Baptisms, Blessings, Funerals, Weddings = any time.)
SPRING
Delayed to another date – to be confirmed: the famous "Daffodil Tea"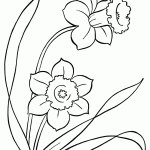 coffee morning, produce & plant sale in aid of Auchtertool Kirk funds in Auchtertool Village Hall. Please support this vital fundraiser as strong as you can with donations and coming (bring friends).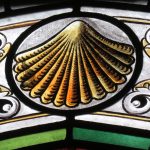 "Lent" = the time leading up to Easter;  in Lent we tend to reflect "what is really important in life? What is worth waiting for? What is essential? Now.
"Easter" = the greatest Christian festival of the year celebrating victory over all that makes for death, by Christ's rising from the grave, the victory of God's forgiveness and love: resurrection.  Easter is a flexible date: 1st Sunday after 1st full moon in Spring (= from 21st March)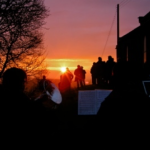 Easter 4th April 2021 
EASTER SUNRISE:  6:28 am .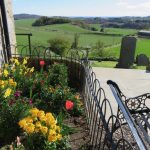 SUMMER – concerts?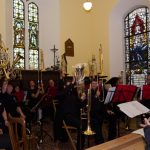 September: xth 1:30 – 4pm "Open Doors Day" in the area, incl. Auchtertool Kirk – www.doorsopendays.org.uk
AUTUMN
September/October: service of Harvest Thanksgiving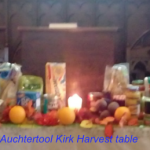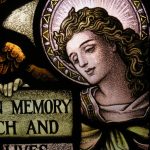 Remembrance: Sunday closest to 11th November: 9:30 am service remembering all from Auchtertool Parish who fell in the wars, laying wreaths at the local war memorial which unusually, here is a stained glass window inside the Kirk. 8th Nov. 2020  9:30 start
WINTER
Advent: the four weeks before Christmas have the four "Advent Sundays", preparing for the joy and deep meaning of Christmas itself – a time of waiting and reflecting.
Watch-night every year in Auchtertool Kirk, 24th/25th December: from 11pm of the 24th all are welcome for hot mince pies and hot drinks, then from 11:30 we celebrate the candle-lit "watch night service" into the actual Christmas Day, a great community celebration, with the peace Christ brought very tangible.
"The 12 days of Christmas" go from 25th Dec to 6th January